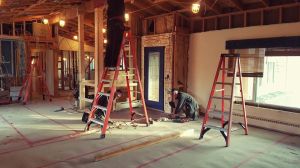 If you're thinking about making some changes in the appearance or function of your home's interior, you'll want to partner with a local contractor who can deliver the kind of results you expect. Dowd Restoration offer the following advice when you begin the process of interviewing contractors for the job:
Hire local. It just makes more sense to work with a contractor from your own community who will be able to address issues or concerns more comprehensively than someone from another region. Keeping your money local is also a great way to invest in your community, so grab a notebook and pen, select your favorite local directory and read up on a few local options before you start calling around. Consider Dowd Restoration in your search for the perfect contractor to complete your project. Click on their 'About Us' link to learn more about the company and how they work.
Find a contractor who speaks the same language as you. The ideal prospect will be easy to communicate with, willing to listen to your ideas and take them into consideration, and will be determined to meet your individual goals. From the start, you'll notice a rapport with a contractor who is seasoned in working closely with clients for a collaborative effort that produces great results. Call around to a few local contractors to discuss your project and you'll notice the difference in communication skills from one to the next. The Denver Remodeling pros from Dowd Restoration are always happy to answer your questions when you call 303-522-8730.
Consider price as a reflection of quality- most of the time. While it's true that you usually get what you pay for, it's equally true that not every contractor is worth what they charge. For this reason, we advice clients to collect referrals within the community from friends, family members, and past clients of prospects. This is the best way to find out whether a contractor's work is worth what they charge. Read through real client testimonials online or request an estimate for your project by calling Dowd Restoration. You'll experience a higher level of satisfaction by working with a contractor who has been in the industry for as long as Dowd has.
Check out the credentials of any company you're thinking about hiring. Their website should provide information on not only credentials, but accreditations and certifications as well. Dowd Restoration is EPA Certified in lead safety and carries the Denver Painting and Decorating Contractors of America accreditation. If you're looking for a Denver Remodeling team that is able to deliver quality results that will exceed your expectations, call 303-522-8730 now to speak with Dowd or fill out the brief contact form online to make a connection with a specialist. Dowd Restoration offers historic restoration work, full remodeling services, exterior & interior painting and custom renovations by request. You're going to love the new look of your home; in fact, Dowd Restoration guarantees it.
Denver Remodeling
Dowd Restoration
303-522-8730
4891 E. Baytes Ave, Denver, CO 80222
View Larger Map