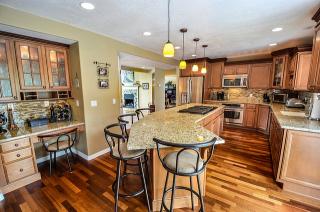 If you are considering the benefits that you will come to know by choosing a reliable and hard working company that offers the most professional and experienced Denver kitchen remodeling services available, you are probably thinking about the added value to your home that will result with the proper repairs and replacements that will take place when you select the very best kitchen renovation company. When it comes to selecting the best company for the job, you will want to take into consideration that they are a well established and reputable company that has the trust and confidence of the community with the good words that are spoken about them. This is how you would describe Dowd Restoration on all aspects.
At Dowd Restoration, we are known as the number one rated contractors that provide affordable and quality Denver kitchen remodeling throughout the entire area of the state. With over fifteen years in business, along with decades of combined experience, we have the professional know how and the skills required to provide you with the kitchen of your dreams. Trying to cook a full dinner in a dank and cramped kitchen area can absolutely take the fun and excitement out of the equation, but when you have a spacious and cheerful kitchen, the sky is the limit! You and your family can rediscover the benefits of cooking homemade meals and baking fresh goodies.
To design a kitchen area requires knowledge of plumbing, electrical systems, cabinets, a variety of appliances, and countertops to do an excellent job. Kitchen designers and general contractors have the skills, experience, product knowledge, access to products, industry connections, and financial knowledge to create a successful kitchen design. Do-it-yourselfers do not have the time period to get all of this knowledge and experience themselves. The changes you are making in a kitchen are more or less permanent. In case you change your mind, it is a great deal more difficult to move a cabinet than reposition a framed picture or move a recliner.
The professional kitchen designer and general contractor's task is translating your needs to a functional kitchen. You want a kitchen to fit your lifestyle, whether you have more than one cook, a fast paced family, a gourmet chef, or even a requirement for entertaining. Designers and general contractors can also be experienced in solving specific problems, such as lack of storage, an awkwardly shaped space, insufficient lighting, or a terrible floor plan. We possess professional knowledge to optimize space and we are able to recall details that are essential, like having adequate electric outlets or the proper size exhaust hood for your space.
If you would like some additional information regarding the best Denver kitchen remodeling, Dowd Restoration would like to invite you to visit our website. At dowdrestoration.com, you can leave your contact information, along with any questions you may have, for a fast response. You can also simply call us at 303.522.8730, and speak with one of our friendly and knowledgeable team members.
Dowd Restoration
303-522-8730
4891 E. Baytes Ave, Denver, CO 80222
View Larger Map