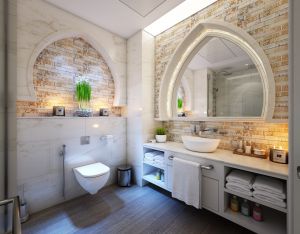 If you are a resident of the Denver area and you are looking for the best contractor for your bathroom remodeling project, there are no shortage of questions that need to be asked and concerns that must be addressed before you make a final decision.
That's why we have taken the liberty of creating this handy list of questions for Denver homeowners to ask about their bathroom remodeling project before it is underway. Some of these questions are best asked of yourself, while other questions need to be asked of your contractor. Be sure to read on and learn more...
1) What Is My Budget?
Before you embark on the process of finding the best Denver bathroom remodeling contractor for your needs, you must also find out as much as possible about your budgetary constraints. This is the most important question that needs to be answered before any other aspect of this project can take place and while you can certainly try your best to wing it, this is not a strategy that any remodeling expert would ever be willing to recommend.
2) What Do I Need and What Do I Want?
It can be tough for a client to know the difference between their needs and their wants once it comes time to make decisions about their bathroom remodeling project and this is where the guidance of an experienced contractor comes into play. They are able to let you know more about the differences between aspects of your project that are required and the bells and whistles that are much less important.
3) What Function Is The Bathroom Going To Serve?
For some, the bathroom is an area that is used primarily for storage purposes and for many, it is also a room that is not typically considered crucial to the overall layout of a residence. If you are someone who only needs the restroom for basic daily functions, your requirements are going to be much different from someone who is looking to create an area where they can spend more of their relaxation time.
4) How Long Will The Project Take?
In many instances, the bathroom will be completely out of commission while the project is taking place and depending on the number of restrooms in your home, you may need the project to be finished quickly or your contractor may be able to work at a more leisurely pace. You need to know how long you and the other residents of your home can survive without a bathroom before you take on a project of this magnitude.
5) Can I Become More Energy Efficient?
One of the best parts about a bathroom remodel is that it allows you to start from square one from an energy efficiency standpoint. Let's say that your bathroom is filled with old and outdated fixtures that are causing your monthly utility bills to skyrocket. When you allow a Denver contractor to handle your bathroom remodeling project, this gives you the chance to ask any and all questions you may have about the strain your restroom is placing on the environment.
Denver Bathroom Remodeling
Dowd Restoration
303-522-8730
4891 E. Baytes Ave, Denver, CO 80222
View Larger Map