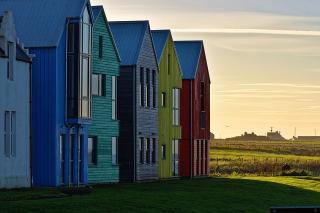 It is a sensation of pride in ownership, a means to allow your true personality to shine through on the blank canvases which are the walls in your home. And so obviously, you would like to keep on that same artistic expression on the outside of the home, as well. But do you realize that while painting your home's facade is actually enjoyable, staining or painting the exterior surfaces can also be necessary, useful and can help you save a lot of money in the future. For the most affordable and reliable Denver exterior painters in the business, Dowd Restorations provides quality workmanship and guaranteed satisfaction. Learn more about several of the unexpected perks of exterior painting and staining.
At Dowd Restoration, we are known as the number one rated painting contractors that have been in the business for over fifteen years, and have decades of combined professional painting experience. If you're looking for the best and most reputable Denver exterior painters within the entire area, you are in the right place. We provide the highest levels of quality and skilled workmanship, along with our strong work ethic that we provide to all of our valued clients. We never skip on quality and we take no short cuts when it comes to the projects that we complete, ensuring your happiness and full satisfaction.
Painting and staining seals off exposed areas that are prone to damage from termites and other wood-eating pests. We all know the effects extreme temperatures, salt and ice can have on us, so just think about what your house goes through! A fresh protective coating adds a barrier between your residence and the harsh effects of the brutal winter months. Vinyl siding should last for you as much as fifty years. Nevertheless, everyday wear and tear could cut down on that lifetime. Painting is able to make it possible to not just keep vinyl siding looking fresh, but additionally extend its life and save you a good amount of money in the long run.
In case you are putting your house up for sale, a newly painted exterior makes an incredible difference. Even if you are not intending to sell the home, providing the exterior a refreshed look is able to increase the charm of your neighborhood. Mildew and mold is able to break down the structural integrity of your home's wood surfaces. Unprotected wood is a lot more vulnerable to water damage. If your wood surfaces go unprotected, they can tend to soak up water from dew and rain and start to soften, swell and decay, therefore leading to the replacement of boards or even entire decks and siding.
If you would like some additional information regarding the best Denver exterior painters in the area, Dowd Restoration would like to invite you to visit our website. At dowdrestoration.com, you can leave your contact information, along with any questions, for a fast response. You can also simply call us at 303.522.8730, and speak with one of our friendly and knowledgeable team members.
Dowd Restoration
303-522-8730
4891 E. Baytes Ave, Denver, CO 80222
View Larger Map