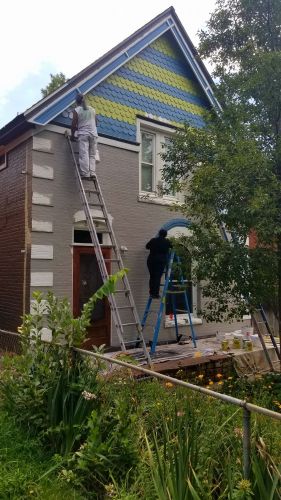 Denver Exterior Painting" />When you have people visiting your house for the first time, it is normal for you to want these visitors to be impressed with what they see. Every homeowner wants their visitors to have a great first impression of their property. What does this mean? This implies that the exterior of your property needs much attention. The painting has to be unique. It has to look appealing to the eyes even though it just a simple style or color.
You might not spend plenty of time looking at your property yourself, but experts believe it is worth the effort for homeowners to keep the outside of their houses nice. It is recommended that the best ways for homeowners to achieve this objective is to frequently clean their outside walls. They need to occasionally give the exterior of their homes a new coat of paint. This brings us to finding a reliable Denver Exterior Painting Company.
How do You Go About Finding a Company and What Qualities Should You Lookout for?
There are a broad range of ways to find reliable Exterior Painting companies. You can get suggestions from family and friends. You can get referrals from past clients and go through online reviews of these agencies (to decide if the customer remarks are in sync with what you want). You must be satisfied with what you find during your search before moving forward with your plans. However, there are a host of qualities you need to lookout for before choosing a Denver Exterior Painting company. See some below.
Professionalism
Just as it is with any other business, painters must display professionalism when doing their job. This means that they must arrive in a timely fashion to do exactly what they say they do. They need to interact with their customers very well. The company should deal with you courteously. They should have their ideas of what may look good for your home exterior, and you should listen to their advice. It is important that they listen to your ideas and understand what you want. They should not force their vision on you.
Experience
You should go for a firm that has been completing exterior painting contracts within your region for a while. It should be an agency that has built a solid local reputation. They should be highly experienced in a broad range of equipment and techniques needed to get the job done. They have to be willing to clean and prepare the exterior surface of your house and do minor repairs on occasion.
Meticulous
The firm's experience with multiple tools should be applied to painting to achieve the most ideal results possible. Homeowners will want to find a Denver Exterior Painting company that is detail-oriented and dedicated to doing the job in the right way. No one wants a company that just wants to do the job quickly. You will want an agency that will work to ensure that the edges are straight, and minimize drips. Their goal should be to ensure the area is looking clean in the end.
Bottom Line
Finding the right choice for your home exterior painting isn't such a difficult endeavor. It only requires a certain level of caution and consideration of some qualities. If you strictly follow the above suggestions, then your goals will be met quicker than you anticipated.
Dowd Restoration
303-522-8730
4891 E. Baytes Ave, Denver, CO 80222
View Larger Map