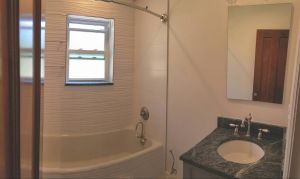 There's no question that when you are looking at home improvement projects, one of the primary rooms that individuals seem to remodel first is actually the bathroom. The benefits of bathroom updates have a large range, whether you're staying in your home for an indefinite period of time, or even wanting to sell it in the near future. In case it's storage, efficiency, appearance or increasing your home's market value, remodeling the master bathroom or even a common bathroom offers an endless supply of advantages for you, your family and your guests. The professionals at Dowd Restoration provide the most efficient and affordable Denver bathroom remodeling services which will increase the comfort and convenience of living in your home.
Dowd Restoration is known as the number one rated home and business restoration company that offers the most exclusive and original Denver bathroom remodeling here, and throughout the entire area. Our main objective is to bring the highest levels of quality workmanship and professional know how to every job site that we visit, treating you as we would hope that our friends and families would be treated. Since 2004, we have strived to continually maintain the strongest work ethic, while keeping your complete satisfaction always in mind, earning your trust and your confidence in us. Bathroom remodels are nothing to take lightly, and we guarantee that you will be happy and more than satisfied with our completed work.
Given that the kitchen and bathroom are actually two of the most prevalent rooms to remodel, home buyers will take a look at these rooms initially. They usually check the bathroom more thoroughly as some other rooms of the home. They want to examine the water pressure and they will also want to take a look at the toilets, ensuring that there is no leakage. Home buyers will also want to examine the lighting and natural sunlight which will come through in the early morning. They're planning to take a look at it all, so you better have that wow factor before placing it on the market.
On the opposite hand, if you're staying in the home, you would like the bathroom to have an individual touch. This is the room you'll most likely walk into each day the most often, therefore it has to feel and appear as comfy as the master bedroom. In case you're opting to upgrade your master bathroom, be at liberty to step on the creative side. Very few outsiders will be looking at this part of the home, so you have the creative freedom to make any updates you previously imagined. Do not be afraid to experiment and think of designing trends that are more specific to your individual likes.
If you would like some additional information regarding the advantages of Denver bathroom remodeling, Dowd Restoration would like to invite you to visit our website. At dowdrestoration.com, you can leave your contact information, for a quick response. You can also call us at 303.522.8730, and speak with one of our friendly and knowledgeable team members.
Dowd Restoration
303-522-8730
4891 E. Baytes Ave, Denver, CO 80222
View Larger Map