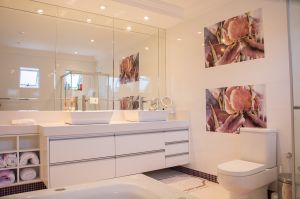 Bathroom Remodeling Denver" />Bathroom remodeling in Denver becomes a necessity at some point in home ownership. Family size, an increase in income, and a simple desire for change are common reasons for bathroom remodeling in Denver. Planning is a key element to pulling off the prefect bathroom remodel.
A large part of the planning for bathroom remodeling in Denver needs to be done before you contact a company to do the job. Doing this work in a systematic way saves you money and frustration later on when the new bath just does not fit your expectations.
Doing your own planning helps you communicate with your remodeling contractor better. Better communication gets the job planning from the contractor's end done much faster.
Planning steps
Age of the bath
The age of the bath usually depends on the age of the house. You may want to preserve antique elements while updating other parts of the fixtures.
Age involves plumbing. Older homes have older plumbing. You may face the need to upgrade to meet legal regulations.
You will also need to consider the amount of hot water that you will need. This may mean a new hot water system. New hot water systems will lead you to investigate government programs that provide tax incentives for more environmentally friendly water heating systems. You can also look forward to getting rid of any odd noises the water system makes.
Size
The most common complaint about baths is that they are too small. An increase in size may mean that you will lose part of a room. You need to investigate the many new variations in baths, showers, toilets, and bidets. The new designs can help you compensate for a size issue.
Size is also a matter of the number of people using the bath. This usually becomes an issue when children become big enough to use the bath. Expanding to two or more baths may be the best option depending on the layout of your home.
Style versus function
You want your bath to look great. You also need a bath that is easy to use and comfortable for people to move in. You have to face the fact that you cannot have everything unless you are extremely wealthy.
Make a list of what you want. Make a list of what you need. Merge the two lists so that the blend of wants and needs are combined to the greatest extent possible.
You need to include all the accessories like towels, decorations, floor coverings, makeup caddies, seats, and storage. All of these things need to coordinate with each other in color and look.
Two ways to do the job
Getting ready for bathroom remodeling in Denver is a lot of work. There are two ways that you can do the job.
You can do it all yourself. This will take a good bit of time. Plan on at least three months to plan and look at materials before you start talking to contractors.
You can hire a decorator to do the job for you. A decorator adds to the cost but you do not do any work except look at designs and decide.
A new bath is something that you will live with for a long time. Planning pays in enjoyment of the new bath. You save money if you plan well.
Dowd Restoration
303-522-8730
4891 E. Baytes Ave, Denver, CO 80222
View Larger Map