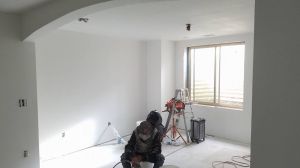 Denver Interior Painters" />Unless you are a professional and experienced interior painter, this is a project that can soon turn overwhelming and entirely too time consuming for you to attempt on your own. Before you even get started with the actual painting, you must first think about the prep work, which includes taping, sanding, priming and several other tedious chores. You then have to consider the types of protection that you will need for your carpeting, furniture, railings and any other possessions that you will need to safeguard. Dowd Restoration has the most professional and respected Denver interior painters that will turn your home into a showplace.
Dowd Restoration is considered a well established and trustworthy company that has the most experienced and skillful Denver interior painters that can be found. It is our number one objective that we bring our premium craftsmanship and professional know how to every job site that we visit. We strive to treat you as we would like our friends and families to be treated, and we accomplish this by earning and maintaining your continual trust and confidence in us. For over the last fourteen years, we have continued to offer only the highest quality of work and customer service that you deserve.
Nearly anyone can pick up some paint from their local home improvement store and buy a couple of brushes, but there's a lot more to interior painting ideas than you would imagine. First, the goal isn't just to change the color of a room or to touch up chipped and scratched paint, but it is also to add value to your home and increase its resale value. Even if you don't plan on selling or moving any time soon, it is always good to make sure you hire experienced painters who can provide you with professional quality results. Dowd Restoration can show you just how affordable and economical it can actually be to have your home professionally painted.
One of the best reasons to hire professional painters to complete your interior painting, is that they are licensed and fully insured. Hiring only insured painters guarantees that if anything goes wrong with the project, the contractors are insured and can make the necessary corrections. Now that's peace of mind that you won't be able to get if you do the job yourself, and in some cases, home owners end up hiring professional painters anyway to the fix mistakes that they made after a DIY project has gone wrong. Dowd Restoration only uses professional painters that are licensed, highly trained and completely insured.
When you decide that you need the assistance of the finest Denver interior painters, Dowd Restoration would like to invite you to visit our web site at dowdrestoration.com, to learn more about all of the professional services that we offer for your home and business. On our home page, you can leave your contact information, along with a description of your needs. You can also call us at 303.522.8730 and speak with one of our friendly and experienced team members.
Dowd Restoration
303-522-8730
4891 E. Baytes Ave, Denver, CO 80222
View Larger Map