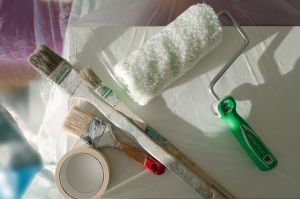 Denver Painting Contractors" />Like it or not, the way your house looks gives people an impression of who you are as a person. So most people like to put in some effort in painting their houses. If you've been thinking about getting your house paint, then this summer is the best time to get the projected started. Here are a few suggestions to aid you in hiring the right Denver painting contractors.
1.         Specify The Job
If you're thinking of comparing quotes from diffrent companies, then you want each contractor quoting for the same work. That way you'll be able to get a very accurate quote. To make that easier, you could prepare a list of the work you want done. It could include the type of paint, the level of gloss, the areas you want painted, and the time you'd like it completed.
2.         Find Out Their Painting Process
It's safe to say that you take some pride in your home and you want only the best paint job for it. So whoever you hire needs to have the same pride in their work and give you only the best. Take some time to check out their process, including what they'll do for each surface. What's their surface preparation like? What brand and type of primer do they use? How about on the finish? What kind of paint will they use? What's the gloss level? The number of coats?
3.         Assets Protection
Another Denver painting contractors hiring tip to consider is their plan for your assets around the area they'll be painting. Is there an actual plan or will they just kick everything to the corner?
4.         Timing
A crucial aspect to consider before hiring is their work speed. When getting a quote, you should always ask about the estimated time of completion, when they plan to start and how many painters they'll have on the job. In a case where the job isn't completed on time, what's their policy, do you pay less?
5.         Warranty Protection
Do they have a guarantee protection, and if yes what does it cover? Does it include labor and materials? Or is it just a warranty on labor? How long would the warranty last? If the pain was to fail would there be a remedy? All of these are questions to ask about their warranty protection plan.
6.         Quality of Material
Another great Denver painting contractors tip to consider is the quality of the materials they use. Most painting contractors have access to products manufactured at different quality levels. Ask to make sure they have a top quality product and insist on them using it for your contract. Using a high-quality paint may cost more than using one of average quality, but in the end, you'll notice that the finish is better and that it lasts longer over time.
7.         Response
What's their level of customer service? Is the contractor punctual to appointments? Do they pick your calls early? Are they friendly? And most of all, do they sound like they're interested in doing business with you? If they sound uninterested, then you're better off taking your business elsewhere.
Dowd Restoration
303-522-8730
4891 E. Baytes Ave, Denver, CO 80222
View Larger Map