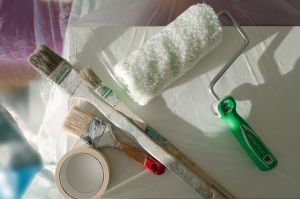 Whether it's for your brand new home or your apartment, or simply the old family room that's going to be remodeled, hiring well established and professional Denver interior painters is actually a must to do, especially since it is able to help you to have the painting job done thoroughly, effectively and quickly. There are many advantages as to why you should hire a professional painting contractor rather than performing it all on your own. Experienced painters have the professional know how and skills, along with the right equipment to make this an easy process that won't totally inconvenience your daily routine. The pros at Dowd Restoration will ensure a job done right, the first time.
At Dowd Restoration, we are considered the number one rated painting contractors that actually provide the most reliable and dependable Denver interior painters throughout the entire region. Our staff of highly qualified and reputable painters have decades of combined experience, and know the correct way that your interior surfaces should be handled, before, during and after the process. We also take great care in assuring that all of your furnishings and other household items are treated gently and carefully. We will prep the entire site of the job before we ever start that actual work, and we maintain the highest levels of responsibility. Your satisfaction is our ultimate goal throughout the entire job.
Frequently, a homeowner starts up with the capability to dedicate some time to the task but ends up anywhere in the midst of a painting project needing to concentrate on their regular duties. As devoted painting professionals, we concentrate on the job at hand and finish the task with no delays. The standard homeowner working a full time job might take up to a month to finish an interior painting job, depending on the size and range of the project. As high as twenty five percent of home owners that begin a painting job end up hiring professionals, after all that hard work and wasted money.
We have dedicated our professional life to fine tuning our painting process, acquiring the appropriate tools for attaining an excellent paint job, and take time when required, and eliminate extra time by having our job already planned out and ready to get to work. If a private homeowner were purchasing the very same high quality supplies and tools that our people use, it would be cost prohibitive for one job. In other words, the money that you think you're going to save by trying to do it yourself, would end up costing you far more for the same results that our work presents.
If you would like some additional information regarding the best Denver interior painters in the area, Dowd Restoration would like to invite you to visit our website. At dowdrestoration.com, you can view some our completed projects and read other clients' testimonials. On our home page, you can leave your contact information, or you can also call us at 303.522.8730, and speak with one of our friendly and knowledgeable team members.
Dowd Restoration
303-522-8730
4891 E. Baytes Ave, Denver, CO 80222
View Larger Map