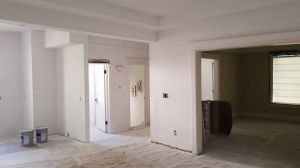 In the day of DIY projects, lots of individuals wonder what the advantages of hiring professional painters actually are. In case you are considering painting your home's interior, then think hard before attempting to get it done yourself. As you might already know, painting is actually an extremely demanding job that will require finesse, skill and incredible patience. To hire an experienced painting contractor is going to provide far better results for both your home's exterior and interior. For the most thorough, comprehensive and professional interior painting in Denver, more people have come to trust Dowd Restoration for all of their interior and exterior home painting projects.
At Dowd Restoration, we are referred to as the number one rated painting contractors who have years of expertise and know how for any type of interior painting in Denver, and throughout the entire region. Whether you are considering repainting every room in your home, or you are focusing on just a specific room at a time, we have the best and most reliable certified painting professionals who will ensure a great job, done right the first time. As our valued clients, you will have the peace of mind in knowing that we make sure that our work measures up to your exact specifications, and we happily guarantee that you will be completely satisfied with the beautiful results.
Professionals are aware that preparing your home's interior for painting is the center stage in the whole painting process. Without the right methods, the new coat of paint will fail quickly, which wastes both money and valuable time. Our painting contractors will additionally be sure to protect your home's furniture, along with other delicate home characteristics from any type of damage. Think of it as us painting one of our own homes or one of our family's, because that's the kind of care and attention to detail that we provide to all of our valued clients. Your happiness is significant for our continued success, and want to achieve both.
Painting your home can benefit your lifestyle, improve curb appeal and increase the value of the property. The right painting company will do the work for a reasonable price and keep interruptions to a minimum. The benefits of residential repainting far outweigh the costs. Some painting companies are actually hasty and perform a shoddy job. Ask for client testimonials and check out some examples of the company's work. Established companies want to ensure your requirements are met and you're completely happy. This is why we proudly display our work and we would encourage you to read our ratings and reviews.
If you would like some additional information regarding our professional and high quality interior painting in Denver, Dowd Restoration would like to invite you to visit our website. At dowdrestoration.com, you can learn more about all the benefits of our superior workmanship. On our home page, you can leave your contact information, or you can also call us at 303.522.8730, and speak with one of our friendly and knowledgeable team members.
Interior Painting Denver
Dowd Restoration
303-522-8730
4891 E. Baytes Ave, Denver, CO 80222
View Larger Map