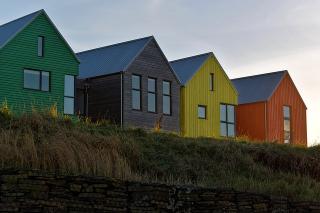 To paint the exterior of your home could significantly enhance its aesthetic appeal. Exterior painting also can influence the structural stability of the home and add to its resale worth. You will find a selection of reasons to use a painting contractor for exterior painting projects. Professional Denver painters have the experience and abilities required to complete projects effectively and efficiently. Professional painters take the guesswork out of painting projects. This will give homeowners the chance to concentrate on some other projects and invest time with their families. When you feel that you the assistance of an experienced and well established painting contractor, trust the experts at Dowd Restoration for a job done right, the first time.
With over fifteen years in the painting business, and decades of combined professional experience, Dowd Restoration is referred to as the leading interior and exterior painting company that provides the most reliable and skilled Denver painters within the entire region. It is our company's main objective to treat all of our valued clients with the kindness, respect and integrity that they deserve, and have come to know us for. We strive in ensuring that we meet all of your exact specifications for your project, but if you need some professional advise, we can offer that, too. Sometimes, it takes another person's perspective and point of view to give you fresh ideas you may have never thought about. 
A painting contractor has the capability to spot rot or decay in housing structures. Even when structural weaknesses are actually small upon inspection, they are able to have major impacts in the long run. It's essential to deal with these structural defects before painting. Water vapors, if permitted to build up in walls through structural weaknesses, have the capacity to cause mold and rot. Interior and exterior painting systems are able to guard against water damage. Professional painters can also suggest ways to correct serious structural issues before the painting process begins. Without the skilled eye of a professional, you can waste valuable time and money by beginning to paint prematurely.
Painting your house offers you the chance to select new patterns and colors. This is an enjoyable process which can bring life back to old home exteriors. Painting contractors are able to provide advice and recommendations regarding tips on color selection. Professional painters generally provide cost effective options and coloring schemes to meet your needs. Residential home painting is a method which calls for an experienced craftsman to ensure that the job is done correctly. The quality of paint used, impacts the capability of your house to stand up to weather and ultra violet rays.
If you would like some additional information regarding the best Denver painters in the area, Dowd Restoration would like to invite you to visit our website. At dowdrestoration.com, you can leave your contact information, along with any questions, for a fast response. You can also simply call us at 303.522.8730, and speak with one of our friendly and knowledgeable team members.
Dowd Restoration
303-522-8730
4891 E. Baytes Ave, Denver, CO 80222
View Larger Map